What is the team size limit for TiDB Future App Hackathon?
Team formation is limited to 1-4 people. If you feel like going solo, you can participate in the competition individually too!
What is the prize pool for the Hackathon?
The total prize pool is $36k, divided into three categories: Top 7 Awards, Special Awards, Incentive Awards, and Finalist Awards. For award details, please refer to: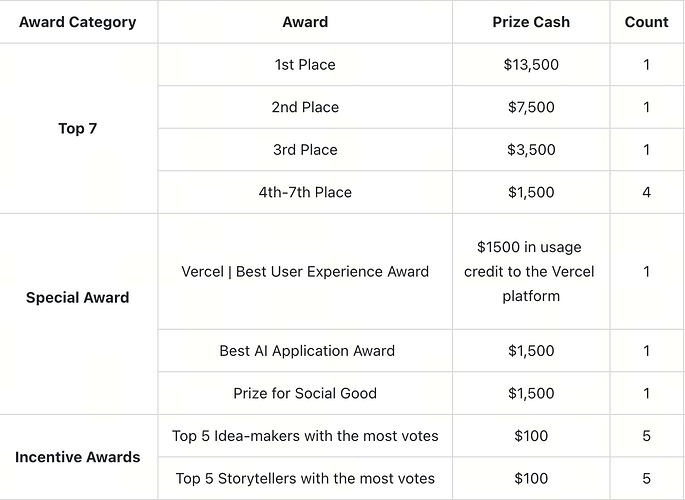 Please refer to:
award description link
for more details.
3. When can I start coding?
You can start coding anytime between June 6th and July 28th, after completing the registration.
Where can I find teammates?
If you're looking to team up with developers from around the world, you can join the Discord "find-teammate" channel to connect with developers globally.
What are the differences in project requirements between the preliminary stage and the final stage?
There are no differences. Projects that enter the final stage will have an additional 3-day period to further optimize their work and compete for the top award.
What are the requirements for participating projects in this event?
In the TiDB Future App Hackathon, participants are required to use TiDB Serverless to build a working application. We expect your application to be innovative and have a well-designed user experience.
How many teams will be selected in the preliminary stage, and what are the rewards for being selected?
A total of 60 teams will advance to the preliminary stage. The list of selected teams will be announced on August 3rd, and from August 4th to August 6th, the finalist will have the opportunity to optimize their product and resubmit it to compete for the top prize.
The rewards for being selected include the TiDB Hackathon swag package: scalable coffee mugs, stickers, canvas bags, and cube timers.
Can I receive multiple awards simultaneously?
Yes, an eligible submission can win a maximum of one (1) Grand Prize, one (1) Finalist Prize, one (1) Special Award, and one (1) Incentive Award. Please refer to: award description link for more details.
Will there be a presentation component in this year's Hackathon?
The TiDB Future App Hackathon 2023 will be conducted entirely online this year, without a presentation component. Judging will be based on the project information and demo video you submit on Devpost. Please submit your project information as comprehensively as possible (the more detailed, the better).
What are the requirements for recording the demo video? What should it include?
Demo Video Requirements:

The demo video should be no longer than 4 minutes and should include a combination of a PPT presentation (optional) and an application demonstration.

The video must be uploaded to YouTube and set as either public or unlisted but accessible via a link.

All participants must copy and paste the YouTube demo video link into the designated field on the submission form.

Language requirement: Since most judges are international, it is recommended to use English for video recording. If not in English, the Entrant must provide an English translation of the demonstration video.

Demo Video Content:

Project Introduction

Who is your target audience?

What problem are you solving, or what user needs are you addressing?

How are you solving this problem/need from the user's perspective?

How are you incorporating TiDB serverless into your project?

Demonstration of application features and user flow

Brief introduction of the technologies you are using

From a technical standpoint, how are you solving key problems?

What unique features have you built into the application?

What is the core focus or achievement of your project that you want to emphasize?

Share the current progress of your project

Share your development plan for the remaining part of the hackathon
Can you provide a PPT template for project demo video presentations?
Yes, you can access the PPT template through this link.
Can the demo video be uploaded to platforms other than YouTube?
No, we only accept Youtube as the only way to upload videos. To ensure consistency in the evaluation process, demo videos need to be uploaded to YouTube. If you need any assistance, feel free to contact our official team in Discord.
I currently don't have any good ideas. Are there any materials that can inspire me?