We are thrilled to announce that the TiDB User Group is coming to India! We are eagerly looking forward to meeting you. To engage more with the Indian community, we have set up the India-tidb-user-group channel on Slack and the TiDB India User Group on Meetup.com.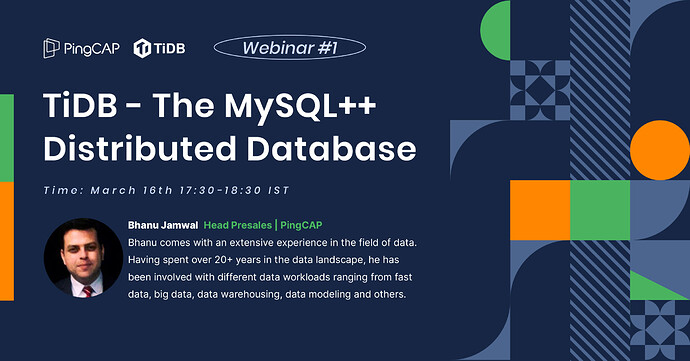 We appreciate your interest and the time you took to participate in the session and we hope that you found the webinar informative and engaging. Our team worked hard to create an insightful session that would help you understand the benefits of TiDB as a distributed database.
We hope you enjoyed this presentation. If you didn't have a chance to attend, you can now [watch the recording.
Recording
Recording: Passcode Required - Zoom (Passcode: !Z9.+SD4)
Slides:
HTAP TiDB - MySQL++.pdf (2.1 MB)
Speaker
Bhanu Jamwal
Bhanu comes with an extensive experience in the field of data. Having spent over 20+ years in the data landscape, he has been involved with different data workloads ranging from fast data, big data, data warehousing, data modeling and others. Bhanu has played different hats ranging from business analyst, IT Infrastucture lead, vendor management, project management, professional services manager, consulting and is currently our head of presales for APAC. He has been associated with PingCAP since last 2 years and helping to assist and support of APAC customers.